Our Staff
John Melton
Associate Winemaker
John Melton is an Army veteran and graduate of UVA with a background in restaurant and facility management. He openly blames the wine documentaries that portray winemakers as clean, glass-swirling intellectuals for his current career decisions.
John started working for Michael Shaps Wineworks as an assistant winemaker in 2017.
In 2019, he began as the associate winemaker at Shenandoah Vineyards.
When John isn't making wine, he enjoys playing with dogs and listening to music.
Ivy Haines
Marketing, Distribution, and Wine Club Manager
After graduating from James Madison University with a B.S. in Dietetics in 2015, Ivy found herself working in the local food and wine scene in Charlottesville, VA. After working in the tasting room at Michael Shaps Wineworks for nearly 2 years, Ivy moved to Germany to pursue a language course. While she was there she studied and passed the Introductory Sommelier Course with the Court of Master Sommeliers Europe in Poland, as well as the B2 German Exam.
In 2020, Ivy began working at Shenandoah Vineyards to help promote the winery, the wines, and manage the wine club.
Christie Shaps
Human Resources and Retail Manager
Christie began her career in the wine industry in 1995 working at Jefferson Vineyards as the Tasting Room, Events & Office manager. Over the years she has worked at several wineries, consulted throughout Virginia for start-up wineries, and oversees the Tasting Rooms, Wine Club, and human resources for Michael Shaps Wineworks. In 2018 Christie began managing human resources and retail at Shenandoah Vineyards.
TC Goble
Tasting Room Manager

TC has been with Shenandoah Vineyards for just shy of 20 years. Following a dart on the map, TC, a native of Los Angeles, moved to the beautiful Shenandoah Valley in 2001. Days after her arrival, she visited Shenandoah Vineyards and was invited to work by Emma Randel, who had planted the vineyards back in 1976. Enamored with the "great pastoral" landscape, and seduced by the wine, she continues to nurture her passion for Virginia wines and the people that visit our tasting room.
When not celebrating the melodious flow of days with her friends and customers, TC spends time with her three grandchildren.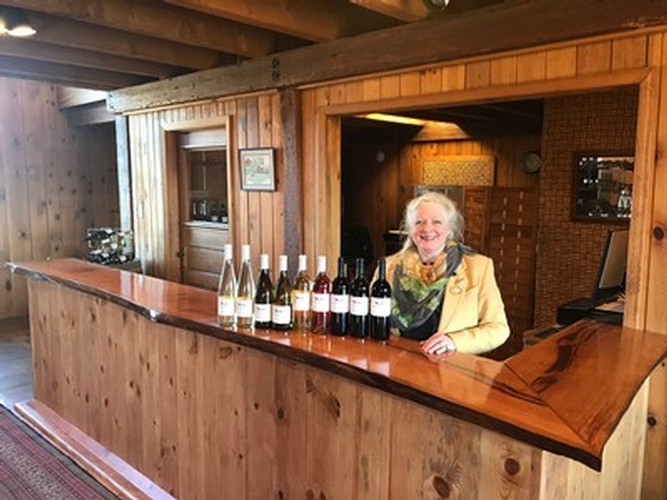 Stay connected...
Sign Up For Our Newsletter
Keep up to date with what's happening at Shenandoah Vineayards, new wine releases, and specials.